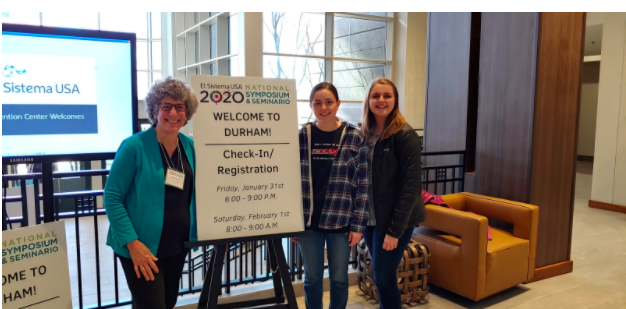 Since we last checked in, the JOY team has hit the ground running getting our students ready for concerts and gearing up for the upcoming year. We have so much to catch you up on, so hold tight!
Our Kindergarten In-School Violins had their first concert in front of the school back in the beginning of December and demonstrated how they hold their "box violins". Now at the dawn of the new year, they have now graduated to using real violins that they will have the opportunity to play in class! Our Kinders now share in the responsibilities of caring for an instrument while they are in music class. Our Violin Teaching Artist and Site Director Julia Pridavka expresses that this time of year is her favorite because the kids get to excited to play their violins, and I couldn't agree more!
In our first grade violins and 2nd grade after-school orchestra, we are in concert preparation mode. Our first graders are learning how to take their violins out of the case and put on their own shoulder rests in preparation for their upcoming school concert. When I visited their rehearsal, they were so focused and able to play very strong for their age, which makes me look forward to having them in our After-School group next year. 
Before break, our Second Grade After-School Orchestra had a performance at the Edwards Elementary Holiday Bazaar and let me tell you, they attracted a crowd! We sold popcorn and hot cocoa at the Bazaar and asked for donations during their performance and brought in close to $300. Now, our After-School Orchestra is preparing for a concert for the Newberg City Club on February 4th at the Chehalem Cultural Center. The tunes our second graders are playing in rounds (one piece of music where groups start at different times) and in two-parts (two different lines of music played at once), which up until now they have only played in unison (all on the same part)! The tone they produce as a group is well beyond their years. After February 4th, we will be taking this crew to play with the Newberg School District String Fling on March 6th, which will have all orchestra students from the Middle and High School ensembles in Newberg School District playing together.
From January 31- February 2, I and Julia Pridavka also had the wonderful opportunity to attend the El Sistema Symposium and Seminario in Durham, North Carolina to learn strategies of teaching and leading the JOY program. We got to spend time with our friends at Oregon BRAVO and connect with other programs like ours, which was an absolute delight. We are so excited to use resources from the people we met to better serve our kids at Edwards, in Newberg, and in the greater Yamhill County!
JOY is also excited to say we are starting a parent organization. Our first meeting is on Thursday, February 13th following our normal After-School rehearsal. We are looking forward to incorporate our After-School parents into the JOY family as we move forward towards planning for the upcoming year. The JOY team is also in process of planning our fourth year as we anticipate another 30 students to join our after-school program and we are excited to see what comes next!
Thank you so much all for your support of our program! I am so excited to see the future of our kids as we plan for next year and how we can make an impact in Yamhill County. Your support helps enrich and cultivate attentive musical leaders in our community and we hope you continue to support us as we grow! Exciting things are ahead and we want to include you in this journey.