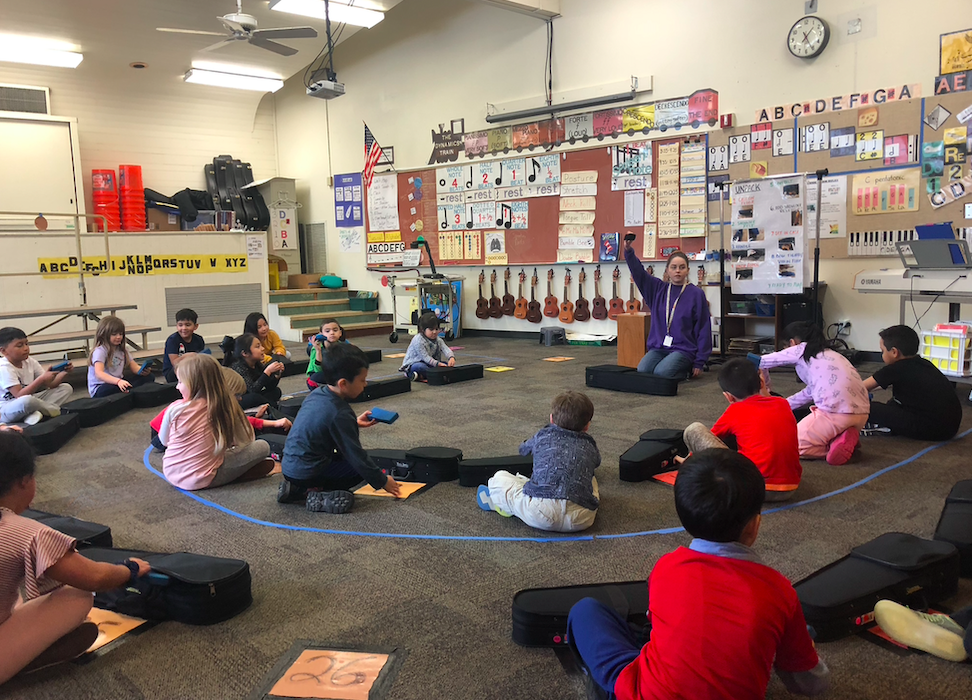 Hello from the Junior Orchestra of Yamhill County (JOY)! As 2020 comes to a close, it seems appropriate to share with you all a recap of what this year has been like for JOY.
Like many music projects across the nation, JOY has had its fair share of challenges with adapting to online learning and staying up-to-date with COVID-19 restrictions and guidelines. That said, we have been so lucky as to continue to have a supportive community and teaching team that has encouraged us to continue providing accessible and high-caliber strings education to our kids!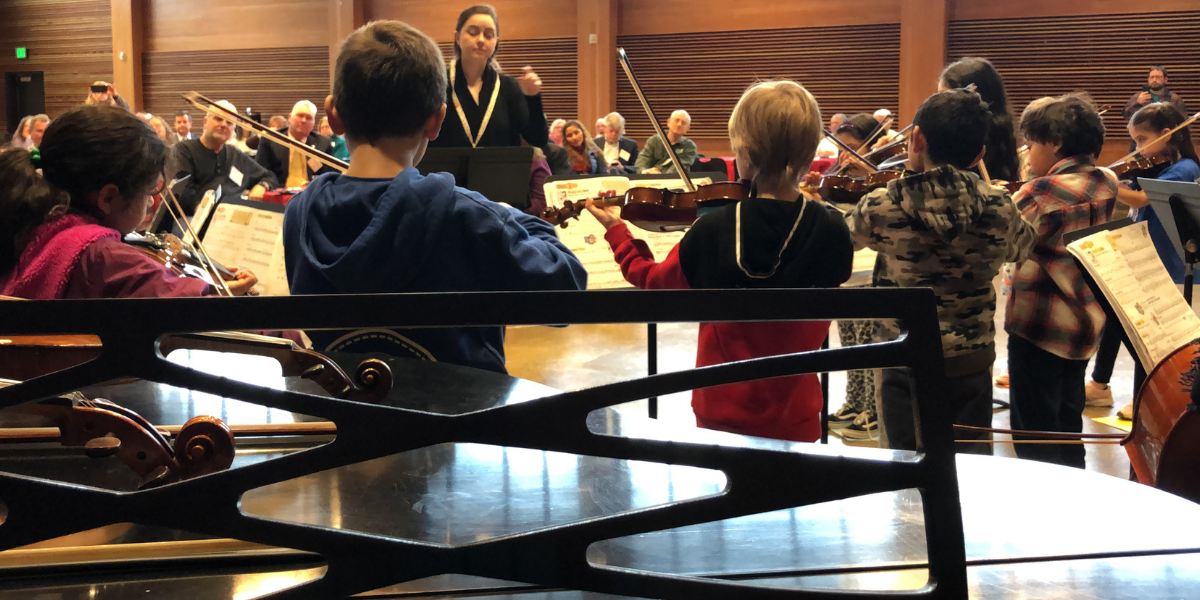 FROM JANUARY TO JUNE
The year started off strong with the JOY After School Orchestra playing two performances in our community. In February, we played for the Newberg City Club and at the beginning of March we played for the Newberg School District String Fling alongside orchestras in our local Middle Schools and High School. Our In-School Kindergarten students also graduated from learning "box violin" and transitioned into playing on real violins. Our first graders also had a concert at Edwards during a school assembly where they demonstrated the new skills that they learned on their violins.
At the end of January, Site Director Julia Pridavka and Program Manager Danielle Howard Dye both flew for a weekend to Durham, North Carolina to the annual El Sistema USA conference. They both had the opportunity to learn new teaching skills, engage with topics in music education and social justice, and to meet new people who run programs like ours.
On March 13 we had to pause on in-person program activities as COVID-19 cases started increasing in the nation and in the state of Oregon. Quickly, our teaching artist team put together a Google Classroom site for our After-School Orchestra to continue providing asynchronous music lessons to follow along with at home. We also started working with the Edwards music teaching team to find creative ways to maintain violin instruction for our Kinder and First Grade students to the end of the year. It made for an unusual end to a strong start of a school year, but we ended the year with the hopes of starting the next school year strong– whether we would be online or in-person.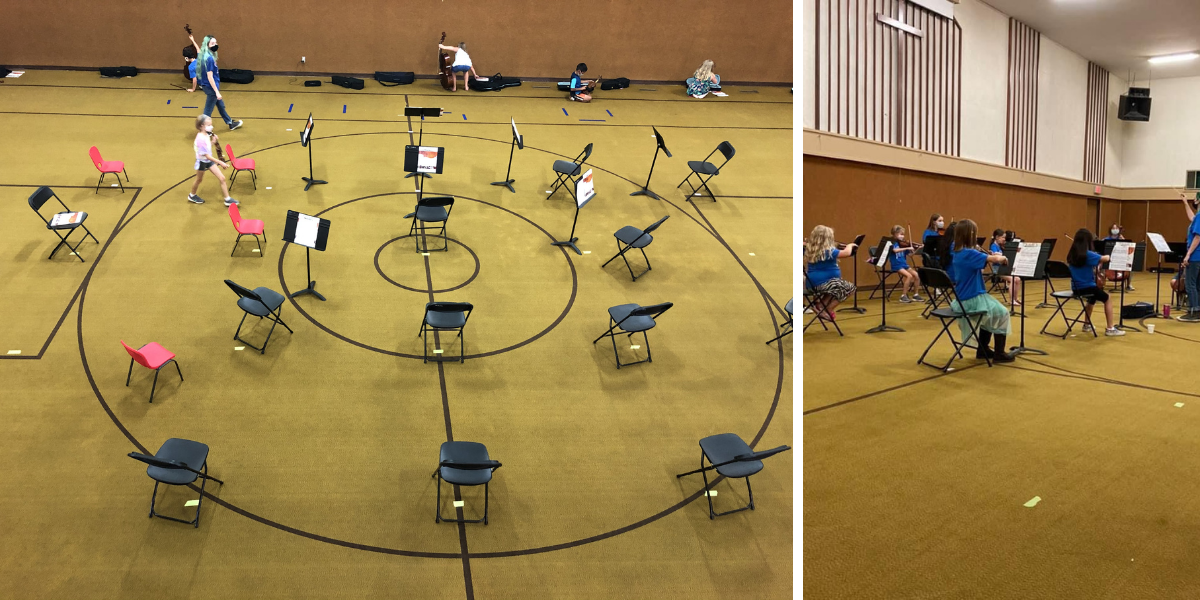 SUMMER MONTHS
Over the summer, our JOY team continued to monitor local, state, and national guidelines that were implemented to reduce the spread of COVID-19. We also stayed in contact with our friends in Newberg School District for updates on how the school year would begin in our area, so we could anticipate how we could plan both In-School Violin and After-School Orchestras at the beginning of the year. JOY began strategizing COVID-19 protocols that would abide by state and local guidelines if we were to do in-person instruction in the fall.
As the spread of COVID-19 cases slowed over the summer, we planned our first annual JOY Summer Camp that we offered to our pilot After-School orchestra class of 3rd graders. The aim for this camp was to rekindle our kids' excitement and enthusiasm for orchestra after months of uncertainty, and it was a success! Since we were unable to use the school building for our camp, we were thankful to have Newberg Friends Church allow us to use their gym space to hold rehearsals. The gym was the perfect size, providing enough space for our kids to remain physically distanced while also wearing masks. Our kids, counselors, and JOY teachers left that camp feeling refreshed and hopeful for what we could do for the start of the year to bring music back in a safe, healthy environment.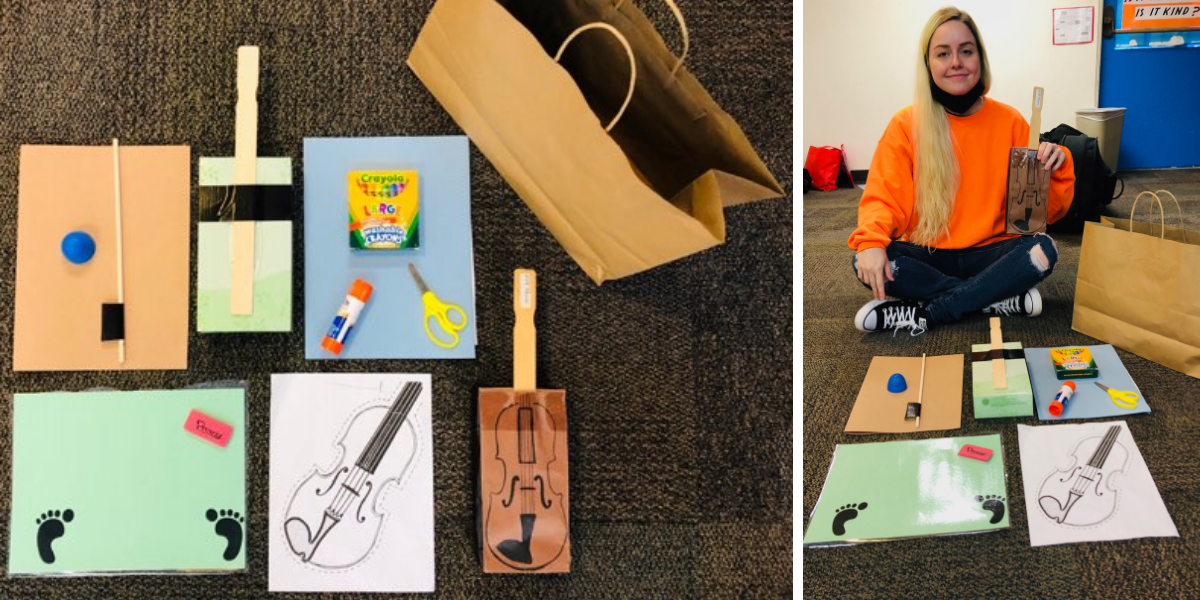 FALL AND WINTER
In August, it became clear that our local school district was going to start the year online with synchronous learning based on case rates in our county and our state. When September came, it was our mission that we would offer After-School orchestra in-person with COVID-19 guidelines in place and that our Kinder and First Grade students would be able to learn violin from home. It was also our mission that our new Beginning Orchestra cohort would have 25 kids enrolled by October.
At the end of September, we started teaching JOY Intermediate Orchestra (our pilot class) online through synchronous online orchestra rehearsals over GoogleMeet while we were getting the Newberg Friends Center gym ready to teach in for the start of October. Two weeks later, we were in the building and started teaching in-person in the space while streaming our kids who opted to continue virtual learning so they could take part in rehearsals at the same time.
For In-School, our Kindergarten students got to take home "box violin kits" (pictured above) that included supplies to create their own box violin at home. Kinders received instructions for assembling their kits over online class provided by our own Julia Pridavka and Edwards music teachers. First graders also were able to take home a violin before Thanksgiving break so they could continue learning skills on their instrument from home. Julia Pridavka has had the opportunity to teach and upload videos for in-school students through Quaver, which is a music education online platform used by all elementary music teachers in the Newberg School District. Thank you to Janis Dodson and Derek Brown for including the JOY team on the Quaver platform!
Our Beginning orchestra enrollment re-opened to Edwards families at the start of October and the end of the month saw 23 students enrolled! While we didn't perfectly attain our goal of 25 kids, we came incredibly close. Many music programs across our nation are struggling to maintain enrollment numbers, and we have been absolutely lucky to have the numbers that we do. By the start of November, we had a full class of beginning orchestra students rehearsing together, wearing masks, physically distanced in a gym.
The month of November also saw a temporary move to online learning for a few weeks as cases of COVID-19 in our county and across the state were starting to increase. Thankfully, our project is categorized as a Youth Program, which by the state of Oregon allowed us to continue to meet despite a recent statewide "freeze". Our kids have also remained healthy, and we returned to our regular hybrid format at the start of December to prepare to perform for our physically distanced concerts, which we streamed on Zoom on December 17th and 18th.
LOOKING AHEAD
As we look ahead to 2021, we plan to continue offering both online and in-person orchestra. It is also our goal that by Fall 2022 that we will serve students in grades K-5 at Edwards, including K/1st In-School Violin and three After-School Orchestras. This means we need your help to continue providing safe, free, high-caliber strings education to our Yamhill County youth today.
If you would like to donate to JOY as part of your end-of-year giving, please click here and select "JOY" as your project of choice.